Career Advice from an Established Construction Professional and Former Newcomer to Canada
"No matter how difficult the road is, you should be brave enough to travel head on and to always find ways to reinvent yourself." That's the determination of Filipino-Canadian Onoya Construction Surveys owner, Neil Onoya, and the advice he would give newcomers to Canada.
Let us introduce you to Neil, a UST Civil Engineer from the Philippines and Owner of Onoya Construction Surveys of South Surrey in British Columbia, Canada. He is our first Employer Spotlight and Immigrant Mentor. Onoya Construction Surveys trained and hired one of BCCA-IN's participants, Mario Ebetner, a Chief Surveyor from the Philippines.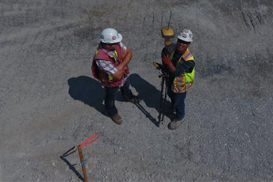 "No matter how difficult the road is, you should be brave enough to travel head on and to always find ways to reinvent yourself."
– Neil, Owner of Onoya Construction Surveys in British Columbia
On his first attempt to immigrate in 1999, 24-year-old Neil was denied for "inadequate experience". Instead of losing his will, he proceeded to earn a Sanitary Engineering degree and passed 3 licensure examinations: Civil Engineering, Sanitary Engineering, and Geodetic Engineering. If he gave up then, he would not have made a name in the Surveying and Civil Works field in BC, nor would he have ended up owning a Canadian company. A company that has been pitted and won against bigger contractors for high-profile projects like the Evergreen Line, Jim Pattison Outpatient and Surgery, UBC Infrastructure, G3 Terminal and Vancouver Landfill Gas Capture Optimization Project.
Neil's journey to Canada and business ownership did not come without setbacks. His Canadian dream took a more definite shape only in 2004 while he was in the middle of a major surveying provincial assignment. He performed below par on his mock interview, but it made him more motivated to impress his Canadian Immigration Officer, particularly on the technical areas he was told he was unable to explain well. It worked.
On April 4, 2005, Neil and his wife were welcomed to Canada. Landing in British Columbia, he consistently heard new immigrants complaining about the lack of recognition for previous work experience. Instead of becoming despondent, Neil went back to school while working minimum wage. In three months, armed with "Canadian" training, he accepted a construction job outside the city and worked hard. One day, his Foreman noticed him reading blueprints, performing layout and survey. His foreman was impressed. Neil was promoted the next day, and that sparked his 11-year journey as Surveyor in various Lower Mainland companies doing Roads, Infrastructures and Subdivision.
Last year, he felt ready to do things on his own and invested in technically-advanced engineering tools and equipment. His work ethic, determination, and soft-skills have earned him the respect of former employers and current colleagues. Those qualities have also brought him repeat orders and new/bigger projects. To overcome difficulties, Neil persevered and did not lose focus. Grit and resiliency have empowered him during economic downturns and the winter months. He urges newcomers to also see difficulties as challenges and overcome/learn from them. He says balance is an important life/relationship ingredient. "Know when to have fun and when to work hard." He believes that people should recognize when to speak their mind and when they should listen to learn from those with more experience. Respect and fairness are musts in any relationship: every customer, supplier, contractor, employee, and co-worker contributes to the success of a business and your profession.
Thank you, Neil, for sharing your experience and advice.